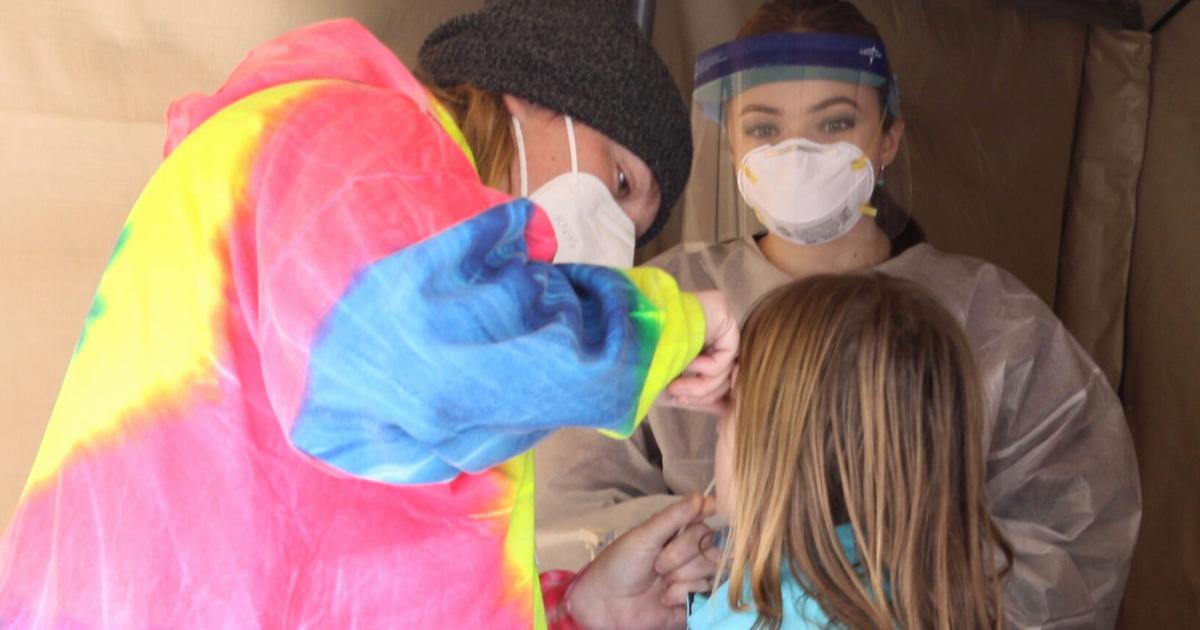 ENOSBURGH — At 11 a.m. every day, Cold Hollow Family Practice's small parking lot fills up with vehicles, and the COVID-19 testing for the day begins.
Nurses, dressed in personal protective equipment, take their stations inside a tent set up just outside the building, and one-by-one, those waiting in their cars make the trip across the snowy lot to be swabbed and sent on their way. 
Practice manager Candace Collins thinks there may be a better way. 
In the next few weeks, she's planning on reaching out to businesses to see if they're interested in partnering with Cold Hollow Family Practice (CHFP) to bring vaccinations and testing into the workplace. 
The goal? To make it easier for businesses to keep their employees safe by following COVID-19 guidelines.
"I think they could use the expertise, and we're just trying to make it available to people," she said.
The Centers for Disease Control and Prevention (CDC) hasn't exactly made it easy for businesses. COVID-19 guidelines and recommendations have been updated and re-updated throughout the pandemic, and for businesses, putting the necessary precautions in place often takes extra time and investment.
CHFP is trying to lower those burdens by bringing some of the resources that a rural clinic can offer straight to businesses, Collins said. Under her proposed program, CHFP would act as a consultant to businesses to help them keep their workplaces safe from potential COVID-19 outbreaks.
"Ultimately, we want our businesses to stay open, and we want our services available to us, but we don't want to have to take on the risk of getting COVID for that," she said.
Providing resources
Collins said the first line of defense against COVID-19 outbreaks is increasing vaccination rates. The clinic can provide businesses with the staff to complete on-site vaccinations.
For the unvaccinated, Collins said CHFP can also provide free testing. Under the current system, CHFP already works with some businesses in Franklin County to test employees at the clinic, but a federal program run by the Health Resources & Services administration could reduce the often costly practice by expanding the number of at-home testing kits available for each business's employees.
Collins said the clinic is set to receive 1,500 antigen testing kits that businesses could use to test employees without needing a trip to the clinic.
"If they can have their employees just do it either at the beginning of their shift or at home, it reduces the cost to the employer," she said.
As of next week, the federal government will require that all businesses with more than 100 employees either have a 100% vaccination rate in the workplace or provide weekly testing. 
While the rule applies to only a handful of employers in Franklin County, Collins said she'd like to see even small business leaders adopt the rule in order to chip away at the problems plaguing the COVID-19 response, such as low vaccination rates.
"Business owners have an opportunity to show that leadership and provide leadership at a more micro level than the government," she said.
Prioritizing routines
At CHFP, Collins said the staff have seen the unvaccinated often express doubts due to worry over needles or a lack of concern over the dangers of COVID-19. Over repeated efforts, however, health care workers have been able to communicate the importance of vaccination and convince people to get vaccinated. Such efforts often take time and trust, but the results often inch up the overall vaccination rate.
By implementing the same routines in the workplace, business leaders can help in that work.
"Businesses have a lot of sway, and I think they have big incentives to keep COVID out of their workplaces, and so, we can align all those incentives," she said.
To access the tests, Collins is asking businesses to work directly with CHFP to implement a larger COVID-19 strategy. She'll be reaching out to current partners next week and talking to the larger business community in the months ahead to see who might be interested in the free program.
"We want to hand [testing kits] out and partner with businesses to develop a comprehensive testing program that does more than just meet the requirements or regulations of weekly testing." she said. "You could test the whole team and make sure that those who test positive stay home."

https://www.samessenger.com/news/a-business-solution-to-the-covid-19-pandemic-cold-hollow-family-practice-wants-to-be/article_2e74a2ba-6fd9-11ec-9f86-a33aa842b8fa.html