Business consultant publishes playbook for ntrepreneurs.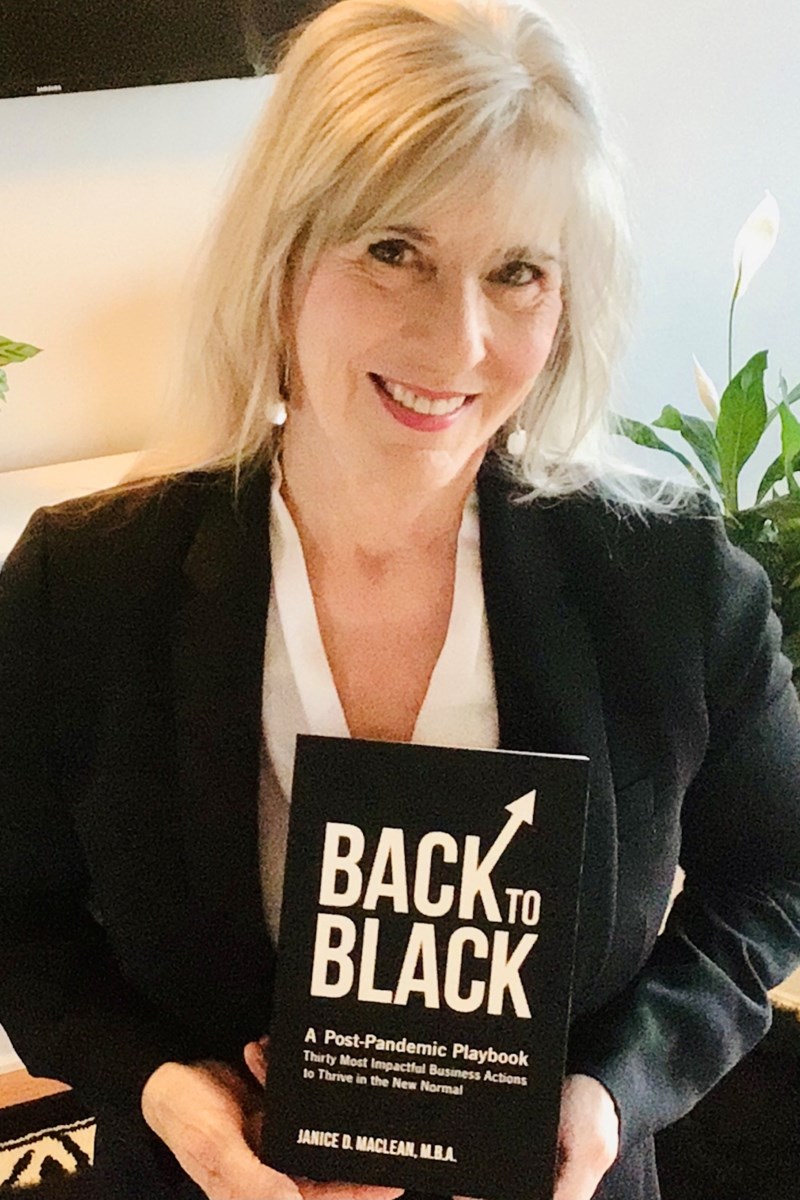 Some positive shifts have resulted from the massive changes brought on by COVID-19, says Squamish business consultant and author.
As a business owner, how well do you take care of your employees? As a customer, how much stock do you put in exceptional service?
Squamish business consultant Janice MacLean has recently self-published Back to Black: A Post-Pandemic Playbook, a book she said aims to help entrepreneurs overcome the struggles the pandemic wrought.
These questions are two she thinks are worth considering in the wake of COVID-19's wrath.
In the book, she looks at 10 core business functions, how the pandemic has impacted them and offers 30 actions to help individuals thrive and businesses prosper.
The Squamish Chief caught up with MacLean for an inside the pages scoop on how the pandemic impacted businesses locally and to garner some of her insights. 
What follows is an edited version of that conversation.
Can you talk a bit about the wide range of what businesses went through during the pandemic? 
This pandemic was a disruption that we've never experienced in our lifetime. Crisis management and risk management are big components of a business plan, but I think we've had such a smooth ride for so long that businesses got a little complacent. 
It was business as usual and we just carried on with very little disruption.
But the pandemic disruptions were unimaginable and unanticipated in so many ways. It doesn't matter if you're a small business or a big corporation, it impacted absolutely everyone. 
We're now moving into a time of recovery and resiliency and re-imagining what our businesses can be. I think there were a lot of lessons learned throughout the pandemic, and they weren't all bad lessons. There are many good lessons.
What are some of those good lessons? 
First of all, the use of technology. Businesses that weren't engaged with current technology to efficiently process their business learned very quickly how important technology is: whether it's invoicing, whether it's point of sale. Technology is going to continue to impact how we do business in the future. And those were valuable lessons that we learned throughout the pandemic. There is a cost involved in technology, but often the return on its investment is much greater than other returns on investment. 
Secondly, the human asset aspect of a business. We don't have a business without our people, and how have we been treating our people? How can we better serve them?
I think we're moving into a business revolution and we're going to have to change how we think about business.
Our people who work in our business are key, they're our greatest asset.
Do we use their skills to their full potential? Our employees are going to be more discerning with the companies they work for. What's the culture like? How does the business value its people? 
I think that's one of the positives that came out of COVID is that, oh my gosh, people realized family is so, so important and spending more time with them matters to workers. 
I can do that either by working remotely or working fewer hours. These long hours, and long work weeks are just not healthy for our people, our community and the future generation. So these are positives that have come out of the pandemic.
Another aspect that seems to have changed is more of a meshing of personal and work. We actually talk about our well-being and mental health at work, right? 
Absolutely. In my last chapter, I talked about celebrating staff and celebrating our lives and our families or whatever is important to us, our accomplishments. It could be personal or it could be professional accomplishments, but celebrating our people and what we've been through. And not just at Christmas or during the annual reviews. We should be celebrating our business and then each other and our accomplishments every day as they happen.
Some folks are struggling with the transition from working from home to being back in the office. Can you speak to that transition? 
I think it is about trusting your people to do the work that they've been hired to do. 
What I experience working with the architectural firm, you know, all of a sudden, all these architects are working remotely due to the pandemic. What about quality control? And what processes do we have in place? 
Well, you know many people work better without the distraction of constant interruptions of people walking by the desk or the phone ringing?
We talk about doing more with less, I think that that's apt when we look at the opportunities for multiple remote workers. It doesn't work for everyone, but for those who work well in that environment, let them.
What other changes do you see happening in business going forward?
I believe we're going to be more of a consumer-driven society. The consumer is no longer going to accept some of the things they shrugged their shoulders and accepted previously.
For example, service that wasn't up to their expectation or a product that wasn't up to their expectation. 
We're not going to patronize the businesses that don't value us as customers, that don't have consistent service, and that don't provide the products that they promise. I think that's going to be a real shift that awakens businesses to re-evaluate. Maybe they have fewer product lines or maybe focus on their best sellers and improve that. And maybe they have more reward systems for loyal client customers.
And the other thing is, we've had two years of very little human interaction, and so events are going to be huge as we move forward. I would develop an event that attracts those people and introduces new business. 
At the same time, some people aren't ready to get back to large groups. So, we're going to have to be cognizant of how we engage people through technology as well as live events.
MacLean will be holding a book signing event for Back to Black: A Post-Pandemic Playbook on April 9, at Cork and Craft Taphouse from 1 to 3 p.m.
The book can be found at The Squamish Store, inside the Squamish Adventure Centre and at the Whistle Stop Boutique on Cleveland Avenue. Online it can be bought through Amazon.

"About a local" is a regular column that features an interesting Squamish local. Have an idea for someone we should feature? Email [email protected]. 

https://www.squamishchief.com/in-the-community/how-has-the-pandemic-changed-business-5230638
Tagged:
Business
consultant
ntrepreneurs
Playbook
Publishes